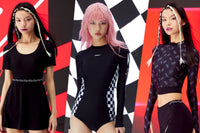 INTRODUCING JETSETTER 2.0
Make a splash in style with our new Jetsetter 2.0, featuring our Eco Fabrics with essential black and whites.
VIEW PRODUCTS
Women's Swimwear
From eye-catching beach war to performance swimsuits, we design women's swimwear that excels. Find all our women's swimwear here.


SHOP NOW
tHERE'S A sPEEDO fOR eVERYONE
Just For Kids
Discover a variety of swimwear and apparel from too cute to too cool! Find favorites from across our kids' swimwear collections.
Shop Kids' Swimwear
Fun under the Sun!
Be protected from harmful UV rays while having fun! Choose from our range of cover-up sun protection swimwear for the whole family.
Shop Sun Protection
Swim clearly with our Goggles
Discover our wide range of goggles for all types of swimmers. Swim with ease as a beginner or choose the best technology fit for pros.
Shop Goggles
Speedo Long Blade Fin

Helps improve technique and speed, great for all levels of training, teaching & recreation
Soft orthopedic foot pockets for comfortable extended use

Long blade provides extra power and force.